Looking for design inspiration for your new kitchen? We've taken a look at some of this year's kitchen trends that are sure to have long-lasting appeal.
As we are spending more time at home than ever before, your kitchen needs to work for you. Whether it's more space for storage, multi-functional areas in open-plan living spaces, or better utilised space for cooking, at Kestrel Kitchens we help ensure your dream kitchen becomes a reality.
Here's a look at the top kitchen trends.
1. Two-toned kitchen cabinetry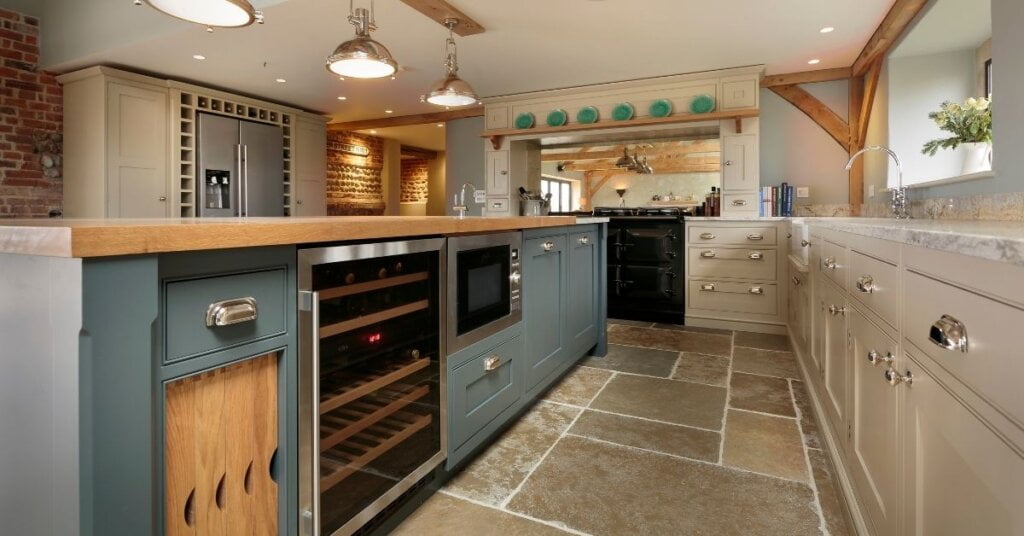 While two-toned cabinetry is not a new trend, it's certainly here to stay. Contrasting colours can add depth and character to your space and can be used to create a focal point, such as a centre island. You're not just limited to a colour choice either, as different textures including matt or gloss finishes can also add a design flare.
Complement lighter cabinetry with dark surfaces and you'll create an air of luxury and sophistication. There's a definite trend towards black and grey worktop finishes this year. Mixing with bright colour accents can create a dramatic look that's certain to turn heads, or couple dark finishes with textured woods to achieve a rustic, homely feel.
When it comes to worktops, there's so many to choose from including high gloss stone and textured slate. Ask to view our samples so you can see what will work best for you.
More popular than ever, kitchen islands come in many shapes and sizes and curved kitchen islands are a trend set to stay. The sweeping lines offer a contemporary look as well as providing practical benefits like easier movement around the island, more seating space, and extra storage. As part of our service, we'll produce a detailed 3D layout plan of your kitchen so you can see exactly how the space will best be used.
Use your splashback as a design feature. Solid colours, herringbone tiled designs, or geometric patterns are just some of this year's popular choices. You could also mix up the texture of your splashback from your worktop, creating a contrast that's sure to add personality to your kitchen.
While navy blue and white kitchens are still popular, green is an emerging colour trend that's got us very excited. Just as darker blue shades garnered attention in recent years, green olive and forest green cabinetry is a hot trend for this year. It creates a dramatic, powerful look in your kitchen and when paired with lighter natural stone worktops and soft metallics, is a perfectly balanced style choice.
If you're not ready to take the plunge on your whole kitchen, use forest green cabinetry as part of your two-tone scheme.
Handleless cabinetry is a great way to achieve a streamlined, contemporary look in your kitchen. This pared-back feel offers practical solutions within a free-flowing design that can incorporate either push-open cupboards and drawers or recessed handles into cabinet doors. Often combined with hidden storage and integrated appliances to maintain the sleek look, our hand-made cabinets can be customised to provide an effective solution of your choice.
One trend that's never going to disappear is the need for smart storage solutions. Floor to ceiling cabinetry offers great scope for concealed modular built-in storage. Ensure your style is not compromised by integrating kitchen appliances into cabinetry. Whether it's drawers, shelving, or large cupboard space to conceal clutter, our experience means we are perfectly suited to design a modern-day living kitchen space with lots of smart storage.
The kitchen is the heart of the home and warm, earthy tones generate calming qualities that are certain to appeal this year. Our top picks for colour choices are dusky pink, soft greys, and sage green. Use on walls or integrate these colourways in your cabinetry for a refreshed look to your kitchen and a serene ambiance.
Choosing the right lighting is key when designing your new kitchen. It can set the mood, reinforce your style choices, and create focal points. That's where we believe the use of pendant lighting is most effective.
Choose pendants to add colour accents to your kitchen. Or select brushed or stainless steel effects as part of your contemporary or industrial style. Try gold, black, or dark grey designs to complement a darker worktop. Oversized glass shades will create a bright and airy feel. Group multiple pendants together, for example, over a centre island, to add a dramatic look. By adjusting the hanging length of a pendant, you can also change the impact it has on your environment.
There are so many colour and design choices, it's difficult to pick just one for the most popular kitchen style this year. What's certain though is the decorative feature over worktop and dining spaces is set to stay.
10. Gold and brass finishes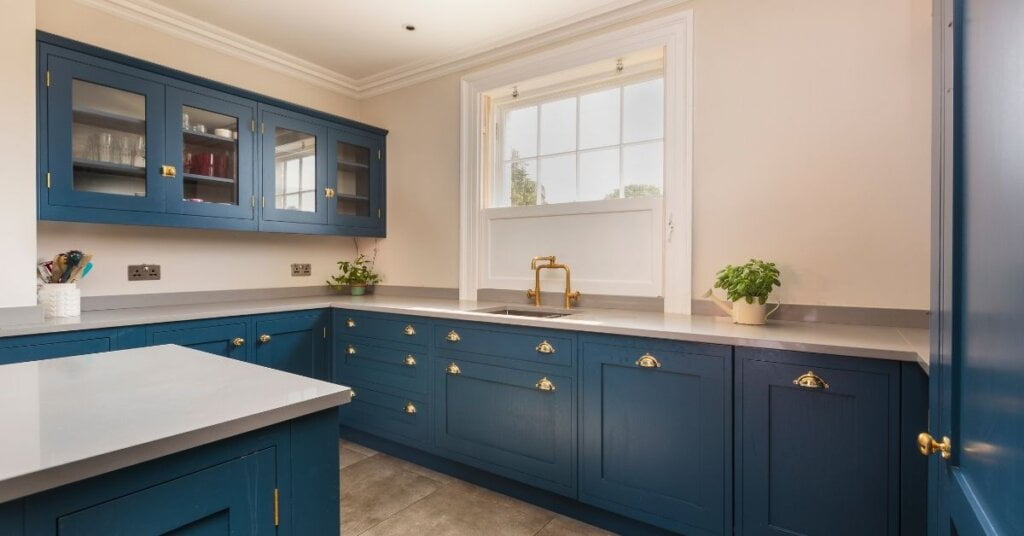 Our final pick for this list is the warming tones of gold and brass that are making their way into our finishing touches this year. There are a growing number of style choices available for handles, taps, accessories, and lights, and the gold tones can add a sophisticated touch to your design. While it's the ideal shade for enhancing deeper colours like blue and green cabinetry, it can also work effectively with white and cream cabinets, or worktops too.
Here to help you choose your style
Our design team is here to help you navigate all the options that are available so that you can achieve the look and feel you want from your new kitchen. Our hand-crafted bespoke kitchens are designed with your needs front of mind and are fully customisable to suit you. Contact us to find out more and to book a no obligation consultation.