A kitchen style that suits your personality and home
When it comes to choosing the style and design for your new kitchen, we understand it can be a difficult decision and so our experienced team is on hand to help you every step of the way. Our showroom also features some of our more popular designs and we'd welcome the opportunity to show you our craftsmanship first hand.
We've put together some of our most popular style choices to give you some inspiration. However, there are limitless options as everything we create is hand-built at our factory workshop, so please contact us to discuss your individual requirements.
A modern kitchen design is usually tailored to keep clutter to a minimum. Its sleek styling will often include lots of hidden storage solutions, frameless cabinetry, and perhaps handleless designs. Material choices are made the focal point and sophisticated touches such as reflective surfaces and high-tech materials offer an ultra-modern look. A modern kitchen will likely have very little ornamentation added to cabinets and strong lines present throughout the styling.
Usually defined by white or cream cabinetry, a classic kitchen look includes shaker-style cabinet doors that offer timeless appeal. The beauty of a classic kitchen is that its simple and clean look gives homeowners a blank canvas on which to personalise their style with decorative accents such as lighting, furniture, and accessories. It also offers you excellent flexibility when choosing your worktops, tiling, and wall colours. Pops of colour or muted palettes sit equally well within this elegant design choice.
Hugely popular and a reflection of our modern-day living, a contemporary kitchen combines a mix of style choices. It has the perfect pairing of a casual and polished finished look and is ideal for open plan spaces. Contemporary kitchens will often have a centre island for an interactive kitchen space and sleek lines. Cabinetry will be paired back in a sophisticated effortless style that lets the room's décor and finishing touches shine.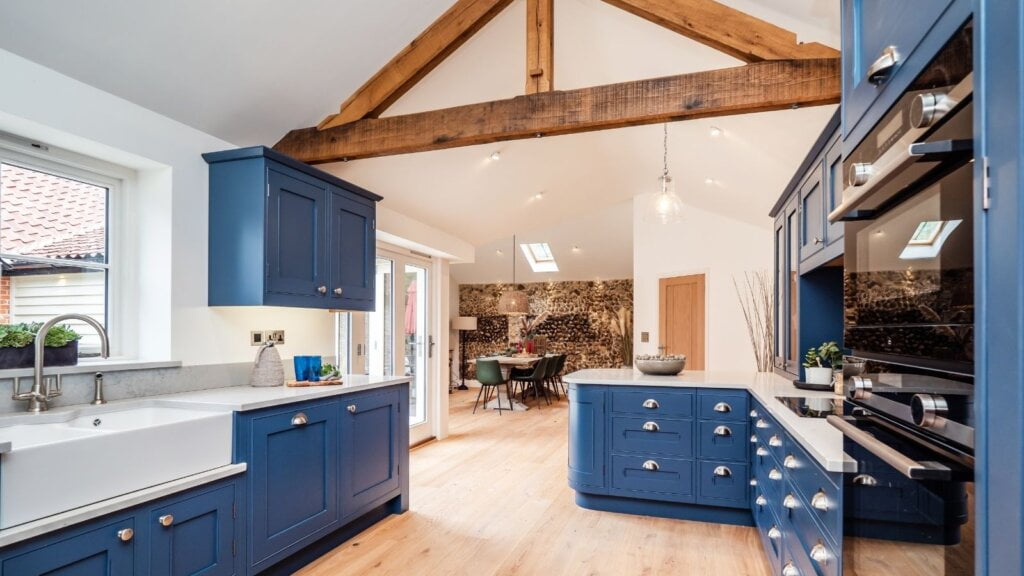 With a traditional look and feel, farmhouse and country style kitchens are known for their warm and inviting appeal. You'll often see large open shelving, butler sinks, and wooden flooring as part of the design. The cabinetry will have ornamental characteristics and a natural wood finish is very popular. Primary colours such as red, blue and yellow feature highly as do creams. Accessories, such as lighting, are regularly vintage or rustic themed.
Another warm and inviting traditional style is a cottage kitchen. Inspired by smaller humble kitchens of the past, it has loads of character and a vintage appeal. Soft colours paired with colourful accents and homely accessories enable homeowners to add their unique style and personality to the kitchen. Cabinetry will be ornamental with framed cupboards and wood panelling, or exposed brickwork may also feature in the design.
The coastal style of kitchen has become increasingly popular in recent years and is characterised by its soothing colour palette such as cool shades of blue or soft pinks. Light beige, white, and cream are also very popular base colours for this design choice. It works particularly well alongside accessories with a natural feel such as wicker seating and stone or wood flooring. The overall look is bright and airy offering a relaxing yet lively choice of design.
Last but by no means least, rustic kitchen design. Purposefully chosen for its distressed, natural look, expect wood, stone, and brick finishes as part of the style. There's something very homely about a rustic kitchen, but at the same time, it delivers a cutting-edge and refined flare that's the envy of many. You may find reclaimed or vintage touches as part of the design including taps, appliances, lighting, and accessories. Slate worktops and gold finishes are right on trend for rustic kitchens.
A Complete Turnkey Service
Whether you're renovating your kitchen or building an extension, we offer a complete turnkey solution. Our process starts with understanding your needs and working on a design and layout that's right for you. Our project management service includes the coordination of experienced tradespeople, your kitchen manufacture, and its installation. We'll keep your kitchen on track through regular communication with all departments and suppliers to ensure a high-quality finish that makes your dream kitchen a reality.
Looking for more kitchen inspiration? View some of our projects.