Versatile lighting schemes that transform your kitchen space.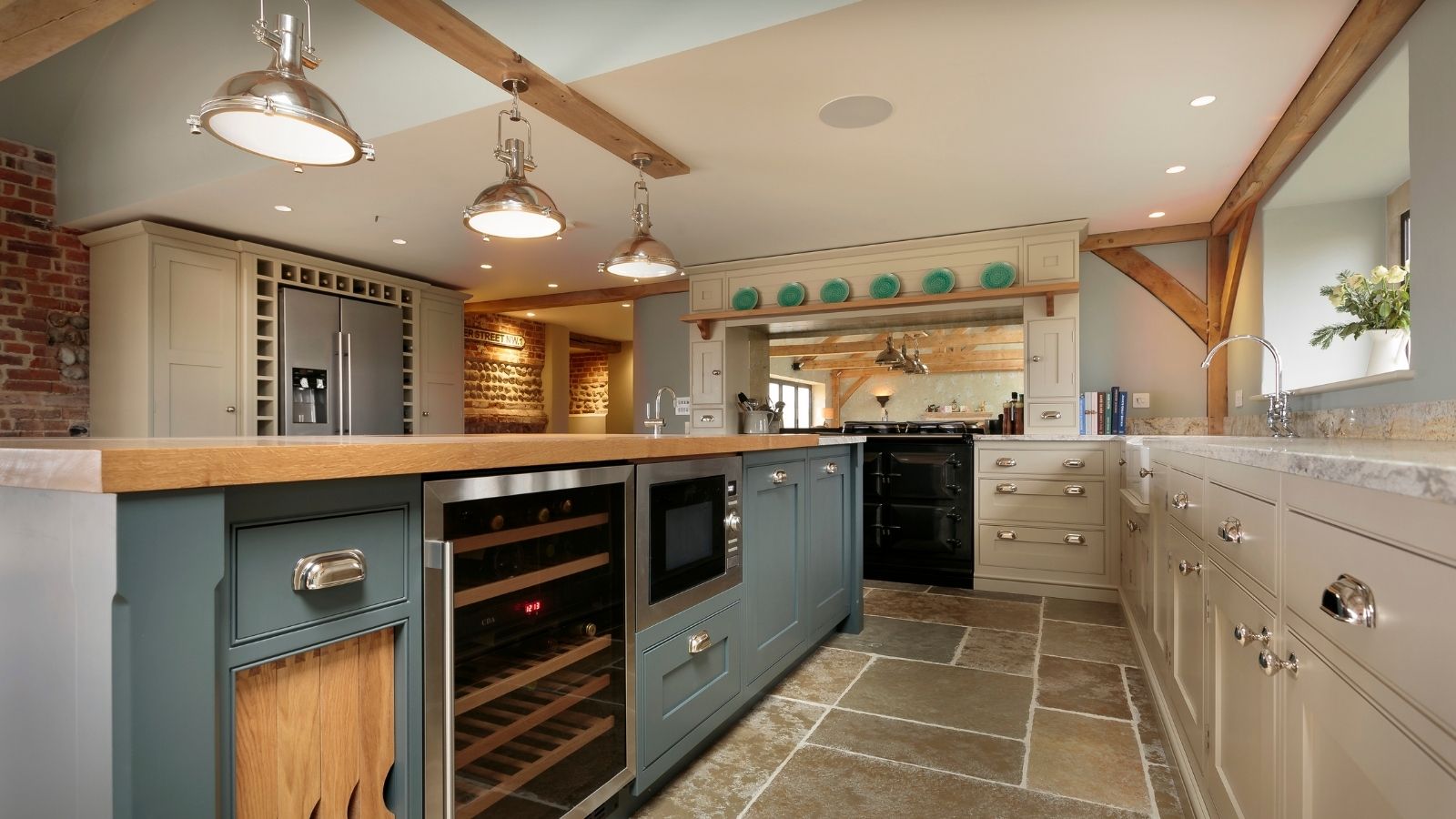 In modern multi-functional kitchens, your lighting should be able to adapt to the needs of the home, giving you the right levels as and when you need it. From bright and functional solutions to atmospheric illumination that will create the ideal ambience for entertaining, we've taken a look at the best kitchen lights for your home.
What type of lighting is best for a kitchen?
The first task is to look at all the areas in your kitchen and what activities will take place in each space to determine what kind of lighting will work best. Most commonly, food preparation zones such as the kitchen sink and above the hob will require bright, shadow-free task lighting. While in a dining space or breakfast bar area you'll want to go for mood and accent lights.
Our experienced kitchen designers can help advise you so you're able to achieve the right look and feel in your kitchen. As part of our comprehensive project management of your kitchen renovation, we use fully qualified electricians to install your lighting requirements.
Smart lighting solutions are incredibly popular as these systems allow you to tailor your lighting to suit your mood. Control systems that will adjust the brightness of a light, activate on motion detection, or independently control different light fittings give you the ultimate flexibility.
Another popular choice is statement lighting. Character lights such as pendants above an island have a striking effect and will provide a much-needed decorative touch to your design.
Using a series of beautiful pendant lights or a stylish single statement piece above a dining table or centre island will help to differentiate your dining space from kitchen work zones. There are so many designs, colours and materials available you'll be able to add your own personality and styling for a unique look.
Choose from options such as industrial shapes in a metallic finish or ceramics and glass finished shades in translucent hues. While warm colours prove ever-popular, bolder choices are also often used to add pops of accent colour to complement your kitchen design. They can either be hung low over your table to create an intimate feel or positioned higher to generate a greater light source.
Integrated cabinet lighting is a great way to frame your kitchen surface areas. Use colour changing LEDs to set the mood or select bright white to offer functional lighting during food preparation and cooking.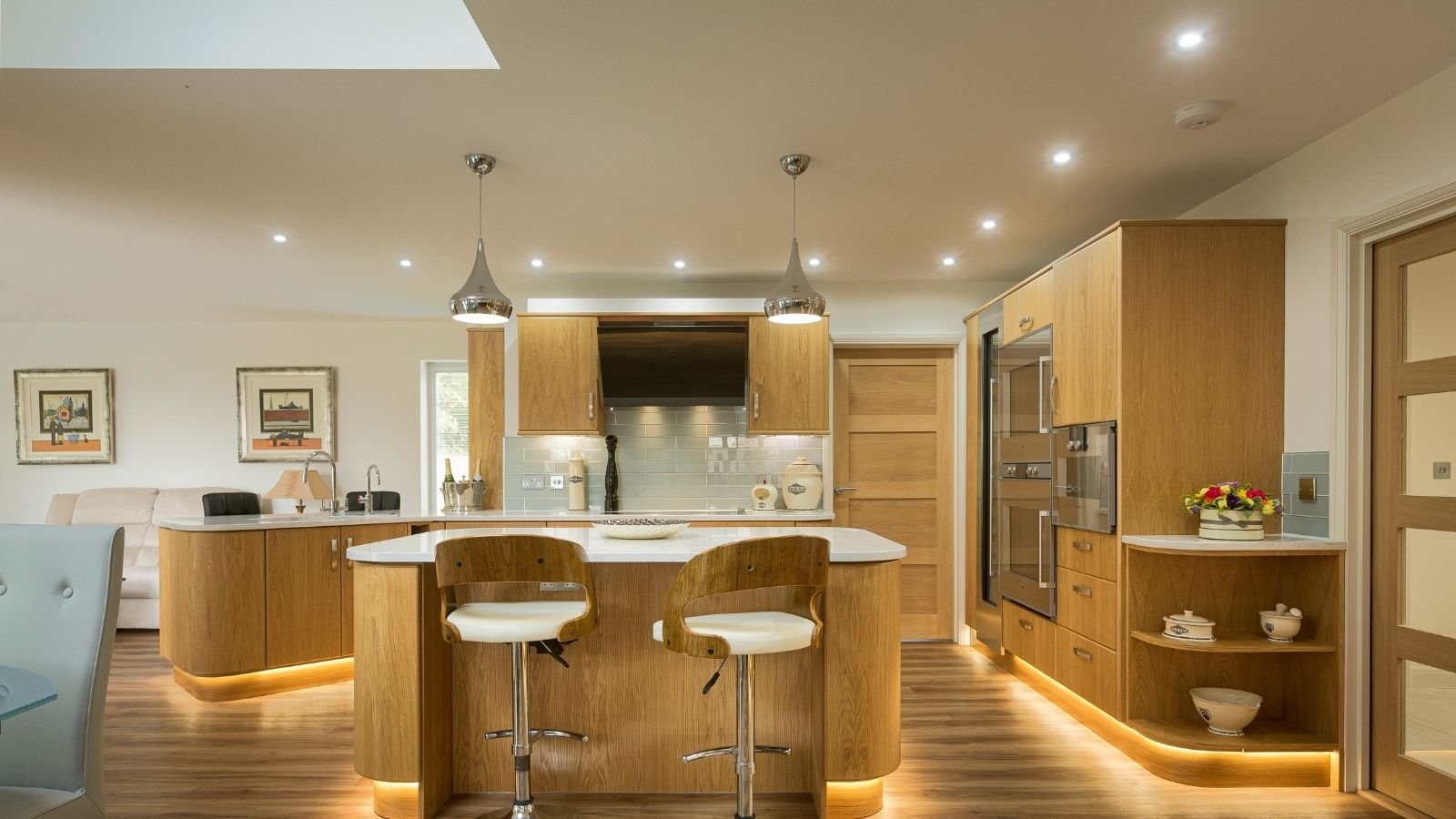 Think about the whole room when considering your lighting scheme, including floor level lights. The base of your cabinetry and centre island are the ideal locations for profile lighting. They'll help to transform your space, adding an atmospheric effect.
Profile lighting can also be used in recesses in the ceiling for a gentle warm glow overhead.
Cleverly placed spotlights can help enhance your kitchen space, especially in smaller, darker rooms. Fitted flush in the ceiling or via angled light fittings that can be manually adjusted, you'll get a nice even spread of light. This is even more effective when matched with light-coloured upper walls and matt white ceilings. Use spotlights to highlight kitchen features such as recesses to highlight a focal point.
LEDs are often used in kitchen design as they are incredibly energy efficient and have extremely low heat emissions. They typically last up to 10 times longer too so are a low-maintenance solution, which is especially beneficial for areas that are difficult to access. What's more, they're smaller, easier to conceal and pack a powerful punch when it comes to brightness.
It's best to think about your lighting at the very start of your kitchen renovation as it can dramatically affect the overall look and feel of your finished design. If you're feeling inspired by the limitless range of options but need a helping hand to decide what's best for you, please contact us.