Whether you want to create light and space, focus on a warm and welcoming ambiance, or are looking for a contemporary feel to your kitchen, the colours you choose play an important part of developing your style. We've taken a look at modern kitchen colour trends that will stand the test of time and offer long-lasting appeal as part of your luxury kitchen design.
We've also covered some of the most popular colour combinations for your kitchen to help inspire your next kitchen renovation.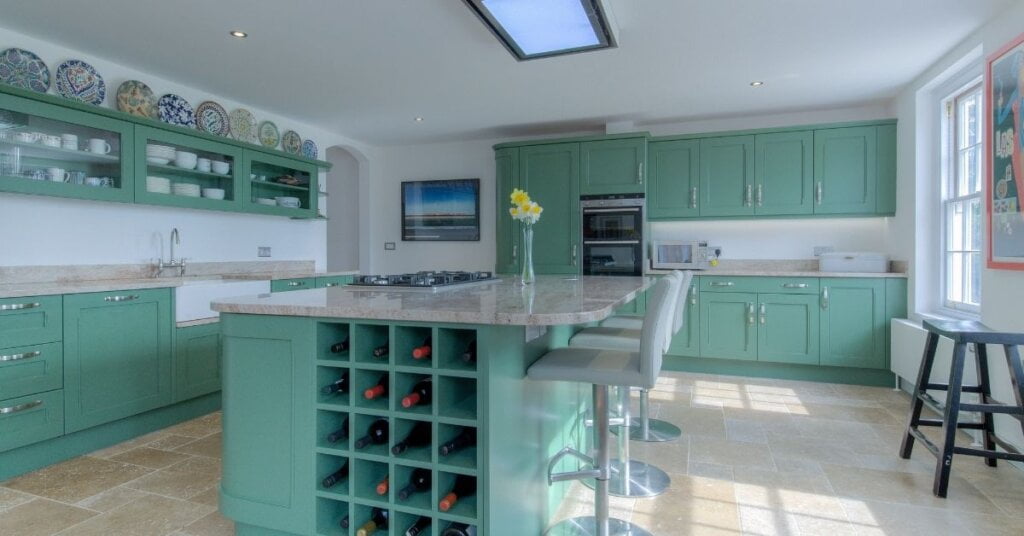 Growing in popularity in recent years, green shades are one of the most commonly used modern kitchen colours. It's a versatile colour that offers warmth and freshness and can be used in a wide range of shades, each with its own set of characteristics.
Dark tones such as olive green and hunter green are a popular look for 2021, providing a highly impactful look to cabinetry.
Or, for a lighter touch, sage green works equally well on your walls and cabinet doors and helps to bring your room to life without overwhelming it. Pair with neutral shades of grey or cream and natural worktops for a bright, airy, timeless look.
Blueish greens such as teal have energising qualities and is the perfect choice for pairing with similar tones.
Navy blue kitchen cabinets have been at the top of our customers' wish list for a while now and that's not looking likely to change any time soon. Combine with gold handles, taps, and accessories for a sophisticated and elegant touch.
There are also a few other hues that are proving popular. Muted tones such as pastel blue with touches of grey can connect your space into a welcoming environment. For something a little bit more extravagant, go for turquoise or indigo blue to give your kitchen a very special wow factor.
Popular in interior decoration this year is a dusty pink. It works incredibly well on either walls or your cabinets and can be paired with grey or even dark hunter green for a modern, revitalised finish to your kitchen. It can also bring through a lot of energy to complement white kitchens.
Red works particularly well as a contrasting colour to dark or light surfaces. Use as pops of accent colours for splashbacks or add a vibrant touch to a centre island to differentiate from your black or white cabinetry.
If you're daunted by the prospect of bright red, there are lots of muted hues available. Couple with neutral colours such as grey, truffle and cashmere for a more subtle, warm look.
An ever-popular and versatile kitchen colour is grey. Available in a variety of tones, it's a classic look that will add a touch of prestige and elegance to your space. It's versatile too as it can be paired with colours from across the spectrum but we particularly like the mix with turquoise, tangerine orange, or purple hues.
Crisp and clean, white kitchens are the ideal solution to create light and space. They're still as popular as they always have been as they provide such a versatile canvas. There are many tones too. We'd recommend a warmer white for traditional style rooms and a whiter or blueish tone for a more modern or contemporary space.
Add colourful accents with accessories and lighting to personalise your space. Try deep colours such as black, navy blue, green, or red with bright whites. Or, if you're looking for a more vintage look, sunny yellow and mint green will liven up your room.
Another minimalist style being adopted is black cabinetry with crisp white walls. Combine with a white natural stone worktop for the ultimate luxurious look and feel to your kitchen space. Use metallic tones from your appliances and grey hues from accessories to balance the room.
With relaxing and warm properties, brown can add heat to your kitchen space. Try a rich chocolate or cocoa colour for your cabinets and pair with yellow tones or light green to brighten the space. Best suited to modern, contemporary, and rustic kitchens, pair with dark or light worktops and stainless steel appliances for a deluxe finish.
Bespoke luxury kitchens
Deciding on the colours for your kitchen design can be tricky but we'll help you every step of the way. Our project managers on hand to discuss all of the options and will use their expertise to help guide you. We can even match colour samples from paint suppliers such as Farrow and Ball to get the colour match you're looking for. For more information, or to book a design appointment, please contact us.