Open-plan kitchen styling that suits the needs of your home.
Open-plan kitchens are a popular feature of modern-day living, creating a natural hub for your home. When it comes to designing your space, there's a lot to consider. You'll want to ensure the areas are differentiated but seamless and this requires some clever styling to achieve. To help inspire your open-plan kitchen design, we've put together some of our top tips.
Create the space you need
The first consideration when looking to incorporate an open-plan kitchen is to ensure you have the space you need to achieve your vision. You may need to remove walls or perhaps you're considering an extension. Always consult the local planning and building control office to ensure you have the correct permissions and use reputable tradespeople to carry out the work for you. Before you break ground, it's useful to have a plan drawn up of what you'd like to use the space for and proportion the room accordingly. This way, you'll know exactly what dimensions you'll have to work with and can move forward with the layout of your kitchen.
It's important to take some time to think about your layout. Answer questions such as: what you want to use the space for, where would you like to eat and how much storage and cooking space you need. The flow from different spaces and to the outside is incredibly important. Where possible, also keep to the classic work triangle between the sink, fridge and hob. Light sources are also a vital consideration. Large bi-fold doors to your garden can transform an open-plan kitchen and skylights will also add an effective natural light source.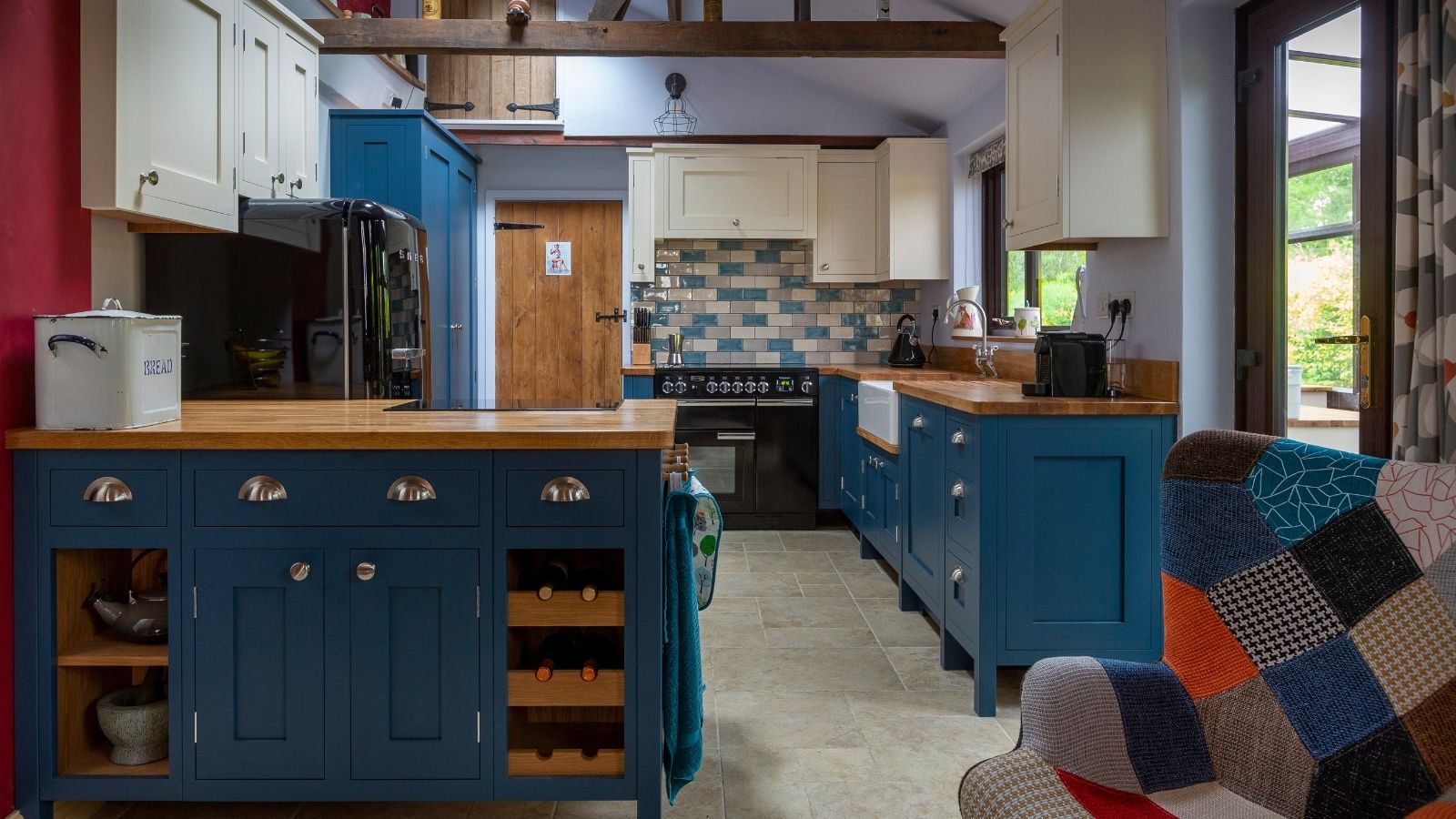 A great way to differentiate your kitchen space with a living area while retaining an open plan feel is to incorporate an L-shaped design. Ideal for smaller open-plan spaces, you'll have the benefits of extra storage by adding low level cabinetry without blocking out too much light or space. Consider using the extra worktop space as a breakfast bar and add high level seating for informal dining.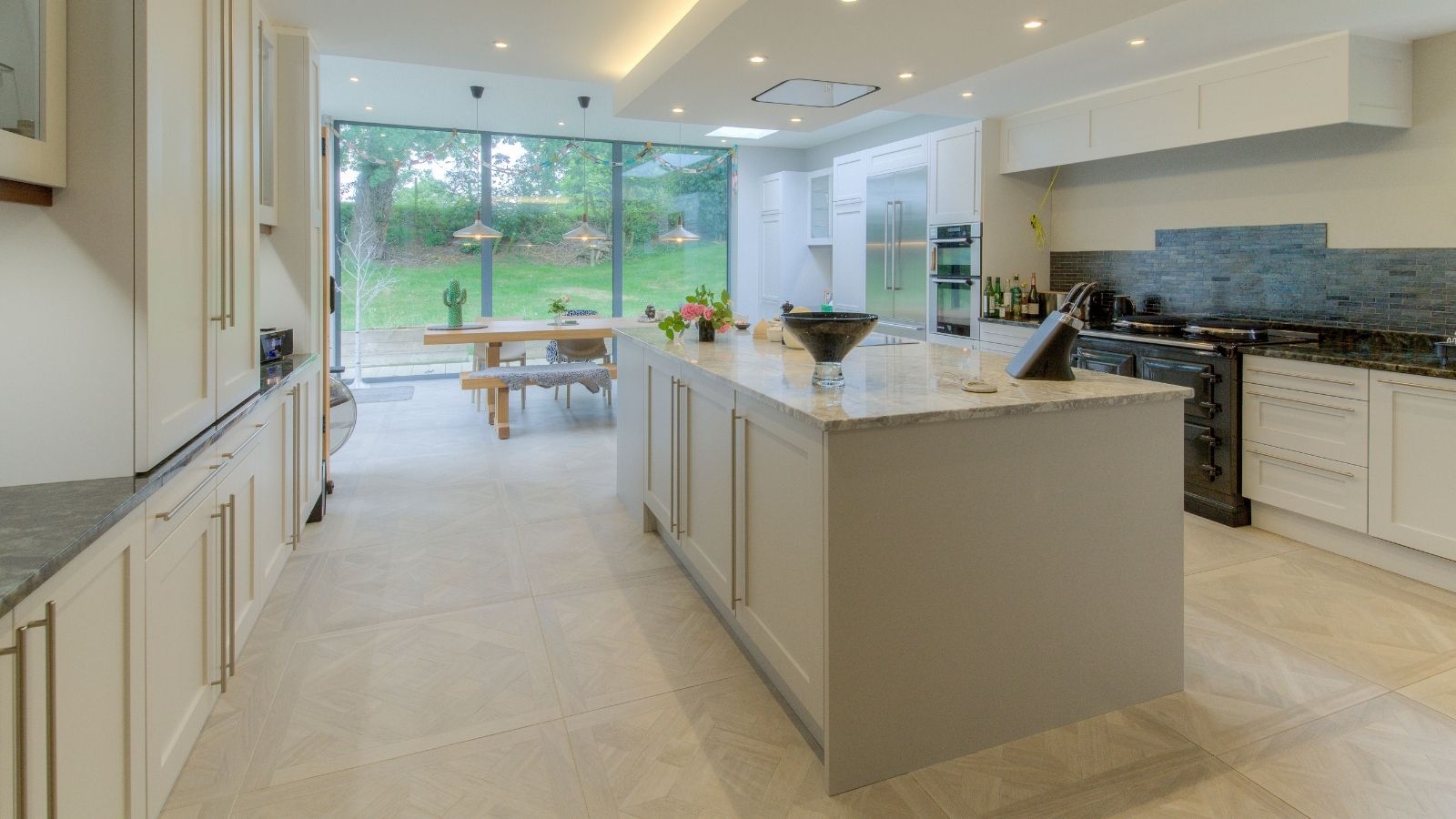 A beautiful addition to open-plan kitchens is a kitchen island. It's incredibly versatile and can be completely tailored to your room. You could choose to add a complementary colour to your cabinetry or a different finish for your worktop to make a feature of the island. Or why not adapt the space to incorporate seating for a collaborative cooking experience. Perhaps you'll want to use the island for your appliances or sink? To get ideas about the wide range of possibilities, take a look at our projects.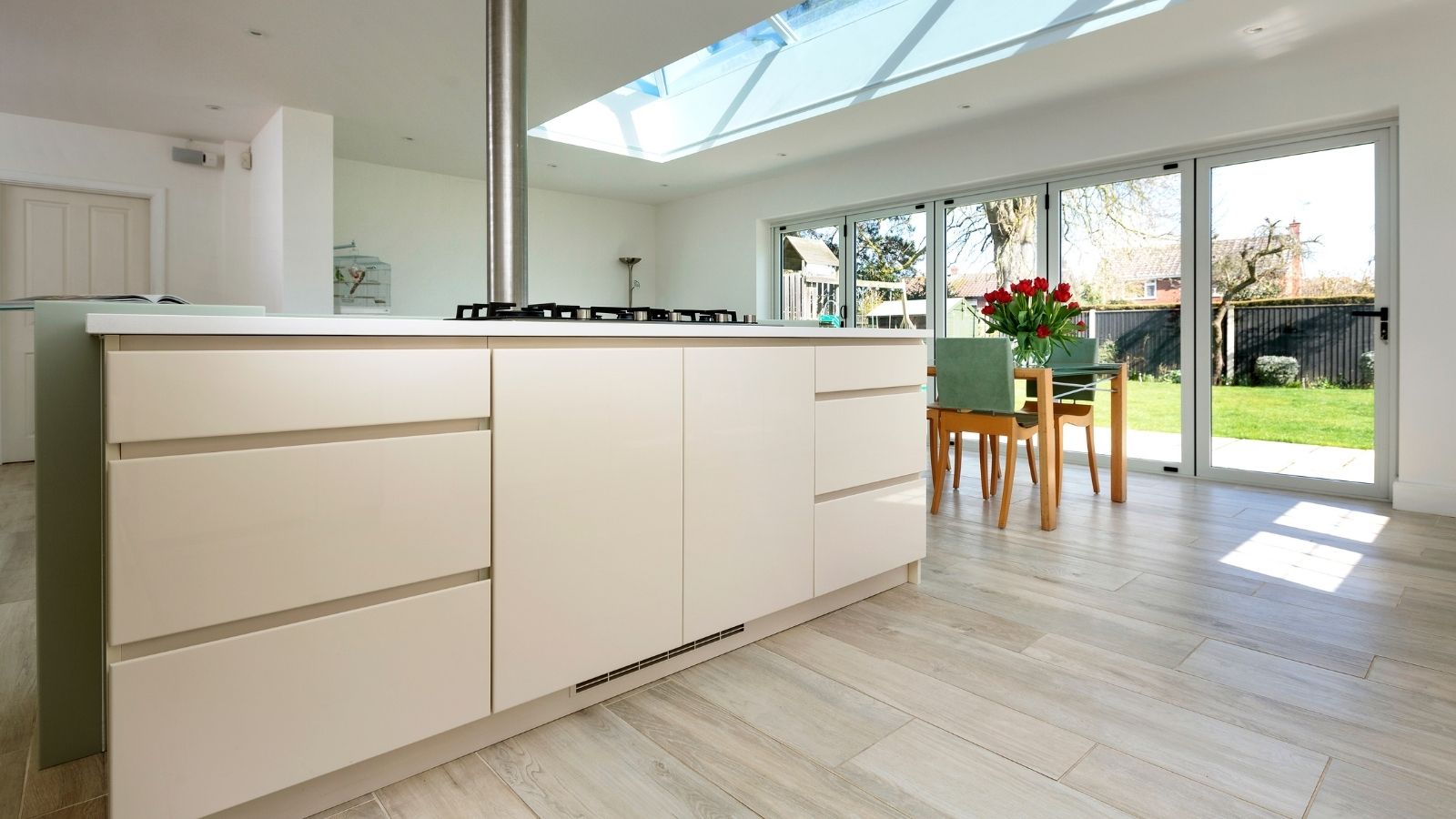 There are two choices when it comes to flooring – have a consistent look across the entire open plan area or break up the space by differentiating your working kitchen area to the living space. If you do decide for different floor coverings then make sure they complement each other so that the colours and pattern work well together.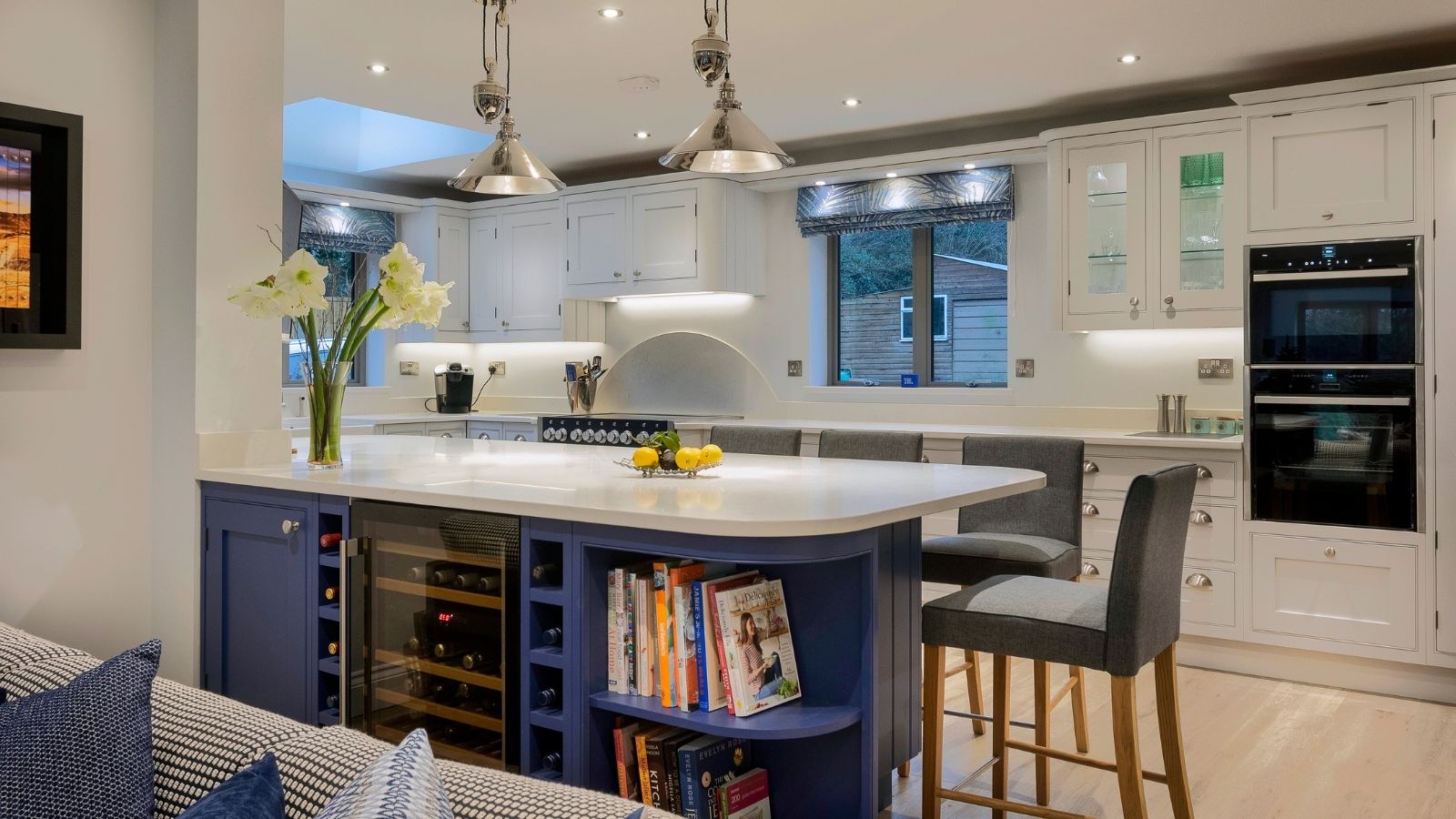 A great way to distinguish different areas of your open plan design is to use subtle colour changes in each zone. You can also use strong accent colours to define individual areas and pull the scheme together. Try bold pops of colour on accessories or light fittings or two-toned cabinetry to segment the space.
Use curves to create flow
Curves can help to subtly direct traffic around your open-plan space. They're also really practical too as there are no sharp corners to knock into. Round off end cabinets to create a dynamic look and explore how a curved kitchen island could work in your home.
Whether you're looking to combine kitchen and dining areas, want a lounge area or even a home office as part of your open-plan living, we've got the experience and skilled craftspeople to make your ideas a reality. Contact us to get started on your journey to achieving your dream kitchen.